Fridays seem to be a hard day to come up with as far as a blog theme goes, so I'm giving one of my recent ideas a try. Friday's Focus will be the name of the feature, and I'm hoping to give some of you the opportunity to interact with everyone who follows this blog as well as getting yourself some exposure for your shop or website.
Here's how it will work! Every Friday I'll spotlight some items based on a guest theme selector's preference from Etsy, Artfire, Zibbet, or any other handmade site I can find (If you share them, I will visit!) along with sharing a little bit about that person's own shop or site. Anyone who posts a comment with feedback will be eligible to be the following week's theme selector, so be sure to also let me know in your comment if you'd like to participate or not, as well as the best way to reach you! I'll pick one random comment as the winner and that person will be contacted to select a theme for the following week's Friday Focus. I know, clear as mud, and as hard to nail down as Jell-o to a tree, but maybe you'll be able to follow along!
I asked (on my Facebook page) for a volunteer to be my first theme selector, and Angie Madison, owner/creator behind
AngsDivineDesigns
was the first to respond, so I'm happy to share her work with you here today as well as some amazing items fitting her theme selection which is "Crystal"!
First a little about Angie and her shop - you may recognize her as tmeddie04, which was her previous shop name on Etsy... and if you do and you've been following my blog for awhile now, you know that I've featured some of her lovely pieces here in the past! With the recent change on Etsy allowing users to "change their shop names", I think AngsDivineDesigns is a lovely new shop name!
Angie prides herself on offering quality made jewelry at low costs - she passes her savings on supplies on to her customers and offers a divine selection of designs in an eclectic array of styles and themes. (A jewelry designer after my own heart! I knew there was something I liked about this woman!) She's also sensitive to shoppers with nickel allergies, since her design business grew out of a need for her to create jewelry for her daughter who has a nickel sensitivity.
The shop is filled with so many fun and lovely pieces - with themes running from twilight-inspired jewelry for all of you Edward Cullen fans, to Indianapolis Colts spirit jewelry (her hometown team!) to more traditional pearls and other shimmery beauties. Since Angie chose a theme of Crystal, I'll stay true to that theme with a few of my favorite "shiny" finds from
AngsDivineDesigns
!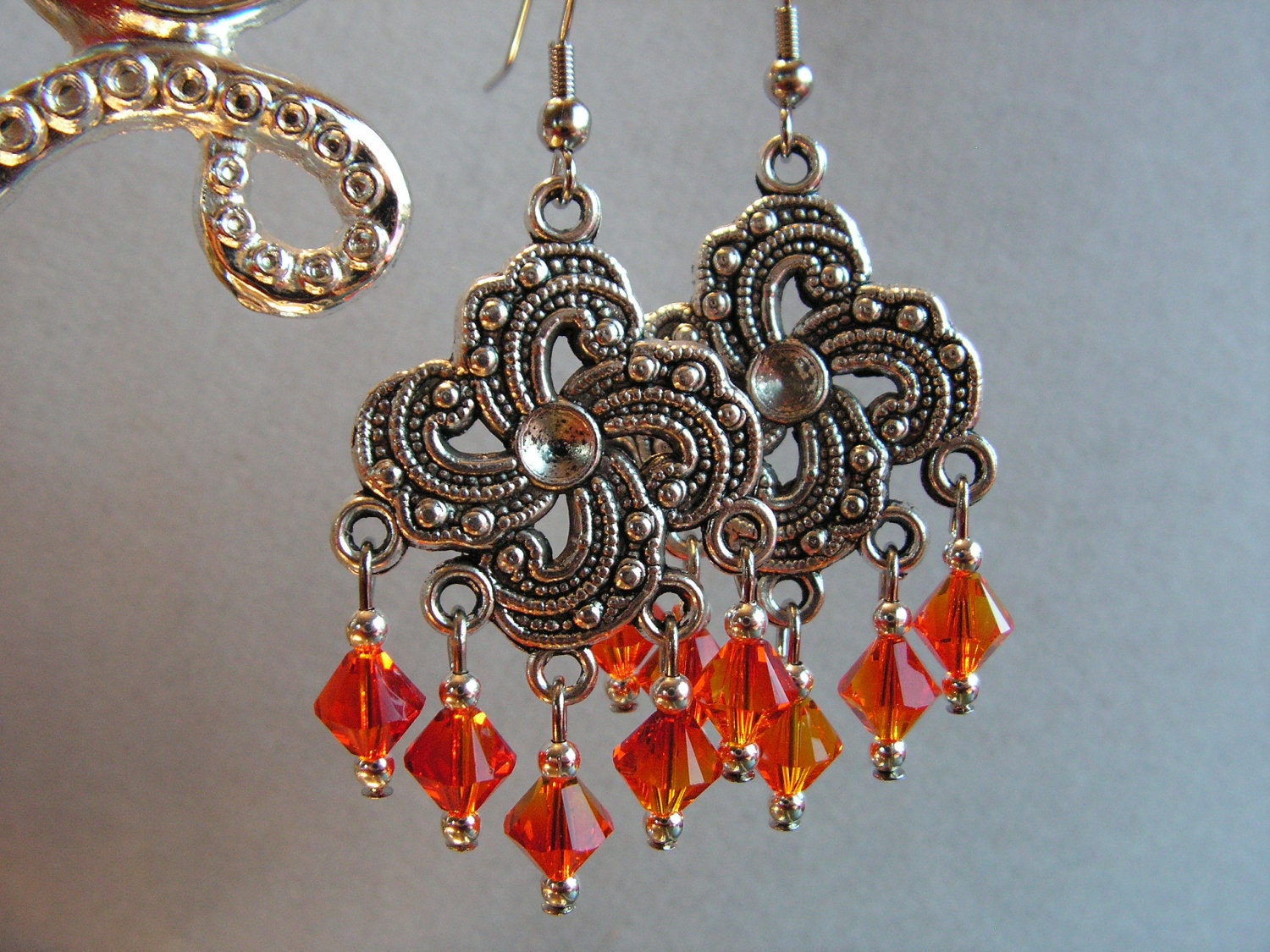 Swarovski's Fire Opals are one of my absolute favorite colors of sparkle... and as you can see in these
Fire Opal Swarovski Swirled Chandelier Earrings
, their brilliant orange and yellow hues are a perfect match for exotic chandelier earring styles. These are just fabulous!
With my son and his sweetheart of 8 years tying the knot this weekend, I've got weddings on the brain. (Shhh... Don't worry, I'm not insane... after much ado, it's become a "planned elopement," so no fuss, no muss - just lots of happiness and well wishes!) Lest I steal Angie's moment of fame here, when I came across this sparkly
Crystal Elegance Necklace
in her shop, of course it was a natural for me to share here!
I love the color purple, and this
Crystal Teardrop Bracelet with Purple Accents
shows this color off brilliantly! Angie's combined some shimmery, rich, deep purple crystal AB beads with smooth teardrops, allowing the color to reflect everywhere. Love, love, love this - and since it's strung on elastic cord, one size fits all!
I'd like to thank Angie for sharing her shop and also for selecting this week's crystal theme. In addition to her Etsy shop, you can find her at
AngsDivineDesigns on Facebook
and on
Pinterest
.
Now I'd like to share some of my other crystal themed finds from the pages of handmade! Here are some wonderful shops with some awesome items with the theme...
That's it for today, but I'm already looking forward to next Friday... maybe you'll have a chance to be my theme selector with a great feature for your shop or website, or maybe I'll find you in my search for items befitting the theme. Please leave a comment, as well as a way to contact you. Any comments received until Noon (MST) on Thursday will be eligible, and I'll be in touch with you that afternoon! Thanks again to Angie from
AngsDivineDesigns
for being my first victim, er, I mean featured seller/theme selector! Have a great weekend!
xo,